Certificates - a brief history
The fame and respect earned by the
"Venetian Traders"
of the late 16th and early 17th century, owe much to the integrity of the gold certificate system used to settle their trades. In 1587 the Central Bank of Venice,
Banco della Piazza del Rialto,
was recognized as the
"bastion of just banking"
by not engaging in lending out the gold deposited and stored in the bank's vault.  This banks' practice was to earn its reward in fees from bullion storage, exchanging of currencies, handling the transfer of payments between customers and notary services. The honorable prestige of such a banking system is beyond dispute, as history records that the reputation of
Banco della Piazza del Rialto
went before it.  It prospered to become the centre of Venetian commerce.
This bank's paper receipts (certificates) for gold stored in the vault, became widely accepted far beyond the country's borders and in fact, instead of being discounted in exchange for gold coin, as was the usual practice, their certificates carried a premium over both vaulted and circulating bullion. The good name of
Banco della Piazza del Rialto
became its greatest asset.
Drawing from the success of the
Banco della Piazza del Rialto
model of
"just bullion banking"
Dan El developed its own unique certificate system. A
lawful owner certificate
is issued for each bullion bar on issue, and is dispatched to the respective Client when the corresponding weight of gold or silver bars are acquired by Dan El.  Dan El and its Client are the only parties that can ever have any interest in these bars, which are vaulted for the duration of the Certificate on issue and are never lent, encumbered or geared.  Dan El Gold & Silver Certificates can be confidently traded either in the open market or privately, knowing that the vaulted bullion is always
"payable to the lawful owner on demand."
A Closer look
Dan El Gold & Silver Certificates are worthy of close examination.  These Certificates measure exactly 220 mm x 99 mm and are printed on an uncommon security paper stock.  This paper has within its fabric, randomly disposed ultra-violet fluorescent fibre, indiscriminately sited throughout the paper during the manufacturing process.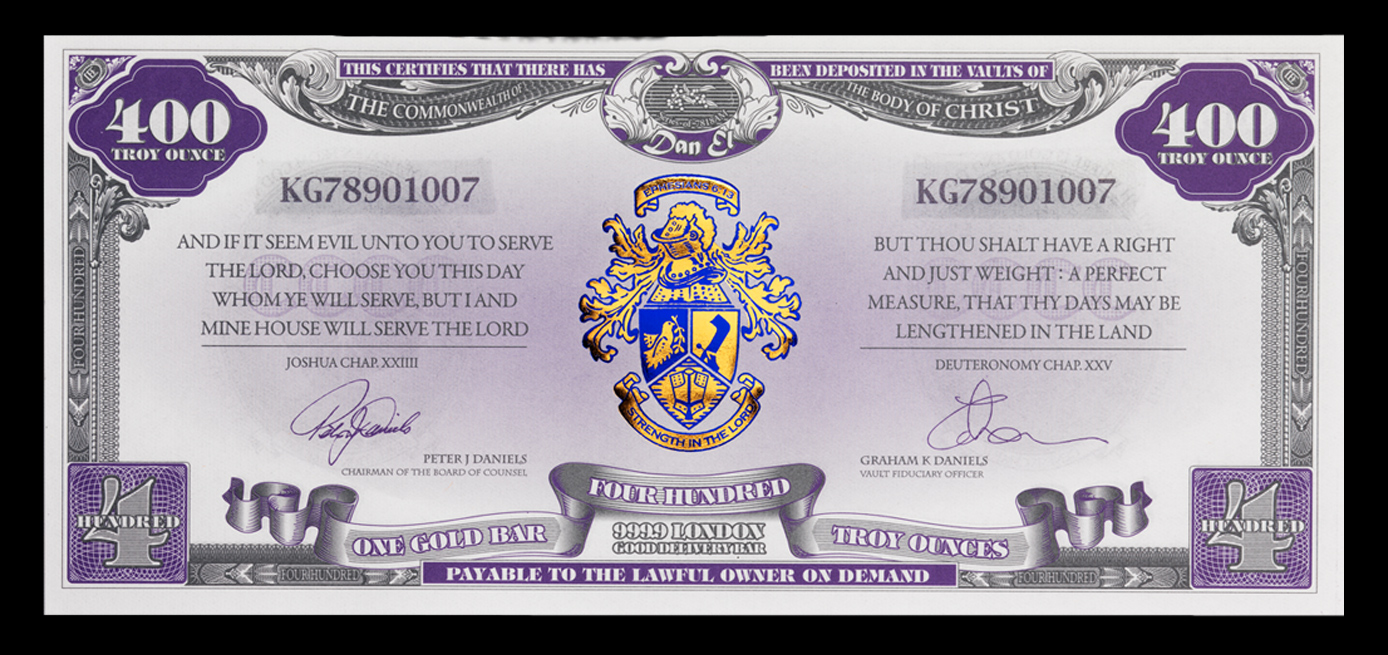 The random positioning, multiple colour and inconsistent shape of each fibre, provide the paper-stock with its own unique identity. No two Certificates possess the same
"fingerprint"
. Additionally the serial numbers of each Certificate are non-sequential, and printed on a unique "silhouette" of invisible UV ink, which appends to the security of the system. Each Certificate is photographed under "black light" before being issued, making any attempt to counterfeit, futile.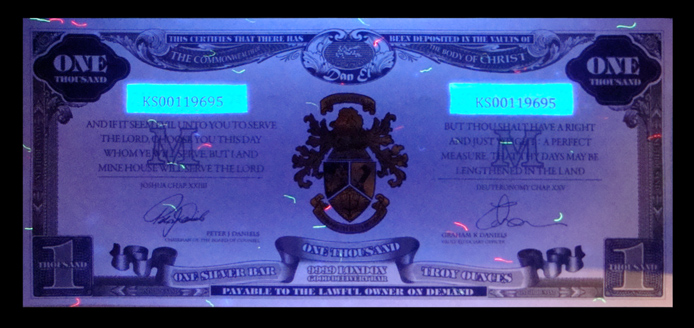 A world first private bullion transfer system
These Certificates are designed to allow transfers to be conducted in a very simple and private manner. The Dan El Bullion Bar Certificate represents its underlying asset of gold or silver. Our certificate system is designed to record a transfer of a Certificate (and underlying bullion) to anyone whose
Client Register
application has been approved. Anyone can apply to become a Client of Dan El and Dan El charges no fee for a
Client Register
application.
A private bullion transfer can be achieved when both the transferor and the transferee are Clients of Dan El, and is done in this way:
The transferor and transferee, together create a "Transfer Code" known only to themselves. This code can have a maximum of 14 letters or numerals, or a mixture of letters and numerals. It may be a word such as "Doctor" or words and numbers such as "Olympic Games 08"
The Transferor settles any outstanding accounts with Dan El and sends instructions to Dan El via Signet Secured Mail stating: Certificate Number and Transfer Code. [Note: only complete bars can be transferred.]
The Transferee also sends instructions to Dan El via Signet Secured Mail stating: Certificate Number and Transfer Code.
When Dan El receives matching instructions from both the transferor and transferee, the transfer of the Certificate can take place.
The Transferor physically "hands over" the Certificate to the Transferee, who now has lawful ownership of the gold or silver bar in the vault.
Dan El treats a Certificate transfer as a new purchase by the Transferee, and the standard fee of ounces x .009 is applied.
No other fees are required
"Dan El Gold & Silver Certificates. Transparent to our clients... private from the world."
Certificate redemption options
A Gold or Silver Certificate can be redeemed at any time by the lawful owner of the underlying bullion. The redemption can be in silver or gold bar, or any of Dan El Artisan Bullion products such as bullion coins, bullion jewelry, or Equity Trade Notes, etc. or in any legal tender currency, or any combination of these. Client's instructions to activate this can be sent via
Signet Secured Mail
.
A Client may plan to have a Certificate redeemed via a "Last Will and Testament" which is acceptable however, should a Client die without any specific directions, then the "Next of Kin" as nominated in the Client Register will be contacted accordingly. This is achievable from the data already provided in the original Client Register form.